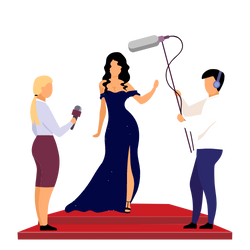 Endorsement is a channel of brand communication in which a celebrity acts as the brand's spokesperson and certifies the brand's claim and position by extending his/her personality, popularity, status in society or expertise in the field to the brand. In a market with a very high proliferation of local, regional and international brands, celebrity endorsement was traditionally thought to provide a distinct differentiation.
But over the years, many aspiring brands in India have jumped on to this celebrity endorsement bandwagon.
Before any brand signs on a celebrity, they should consider three main aspects.
Attractiveness of the celebrity: This principle states that an attractive endorser will have a positive impact on the endorsement. The endorser should be attractive to the target audience in certain aspects like physical appearance, intellectual capabilities, athletic competence, and lifestyle. It has been proved that an endorser that appears attractive as defined above has a greater chance of enhancing the memorability of the brand that he/she endorses.
Credibility of the celebrity: This principle states that for any brand-celebrity collaboration to be successful, the personal credibility of the celebrity is crucial. Credibility is defined here as the celebrities' perceived expertise and trustworthiness. As celebrity endorsements act as an external cue that enable consumers to sift through the tremendous brand clutter in the market, the credibility factor of the celebrity greatly influences the acceptance with consumers. 
Meaning transfer between the celebrity and the brand: This principle states that the success of the brand-celebrity collaboration heavily depends on the compatibility between the brand and the celebrity in terms of identity, personality, positioning in the market vis-à-vis competitors, and lifestyle. When a brand signs on a celebrity, these are some of the compatibility factors that have to exist for the brand to leverage the maximum from that collaboration.
Even though these three major principles must be adhered to by companies, practically it might be difficult to find celebrities that satisfy all these three conditions. Depending on the nature of the brand and the kind of product being used, companies can selectively emphasize one factor over the other.
mFluencer has one of the largest networks of Celebrities which includes Film Stars, TV Actors, Sportspersons, Regional Celebrities, Standup Comedians, Singers & other performing artists.
Whether you are looking at Brand Ambassadors, long/short-term associations, launch events, celebrity visits, social media promotion or any other type of association mFluencer helps you to connect with the celebrities of your choice within your budget. No middlemen is involved, hence you get the best rates in the market.
Our pool of 500+ Bollywood & Regional Film Stars, TV Actors, Singers, Social Media Stars, Sportspersons, Standup Comedians & KOLs provides you an opportunity to choose the best option for your Brand Endorsement.