On-Demand User Generated Content Creation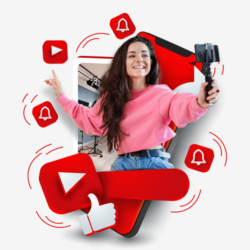 Consumer habits are evolving. But there's one thing that'll never change—people trust people. It's true in business-to-consumer (B2C) markets. And it's the same in business-to-businesses (B2B) industries. Research backs this: A report shows 88.5% of consumers trust real customer reviews over influencers. So although influencer marketing works, there's nothing like having real customers speak about your product or service. 
Nearly 98% of online shoppers read online reviews before buying, and another 66% are extremely likely to buy after reading a review. So there's no reason not to adopt user-generated content (UGC) into your marketing strategy. 
Your customer base is filled with potential brand advocates. It's up to you to capture their satisfaction and share it with the world. Getting loyal customers to share their stories with the world is easy today. Most Millennials and Gen Z buyers are digital natives or converts and regularly leave reviews for products. So simply asking for a review or social media promotion is possible, especially when you offer something in return. 
What UGC works on each network?
UGC works across every social media network. For example:
Facebook is an excellent platform to share customer stories in video format. Or even use UGC in your Facebook ads. 
Instagram is another visual platform, making it best to use UGC that showcases your products. 
Twitter seems limited, but visuals are worth 1,000 words, so use them. Share UGC product photos or host a Twitter chat to demonstrate the product live.
SnapChat/TikTok is where customers go to share their experiences, so seek and you may find dozens you can use (get permission first).
LinkedIn is for professionals, but they're people too and love great UGC. But instead of using it from customers, have your employees create it instead. 
mFluencer helps you in finding the real users/influencers in your niche who can become your brand advocates. These influencers can use your products and share their honest reviews & feedback which can help your target audience to know more about your brand/product.